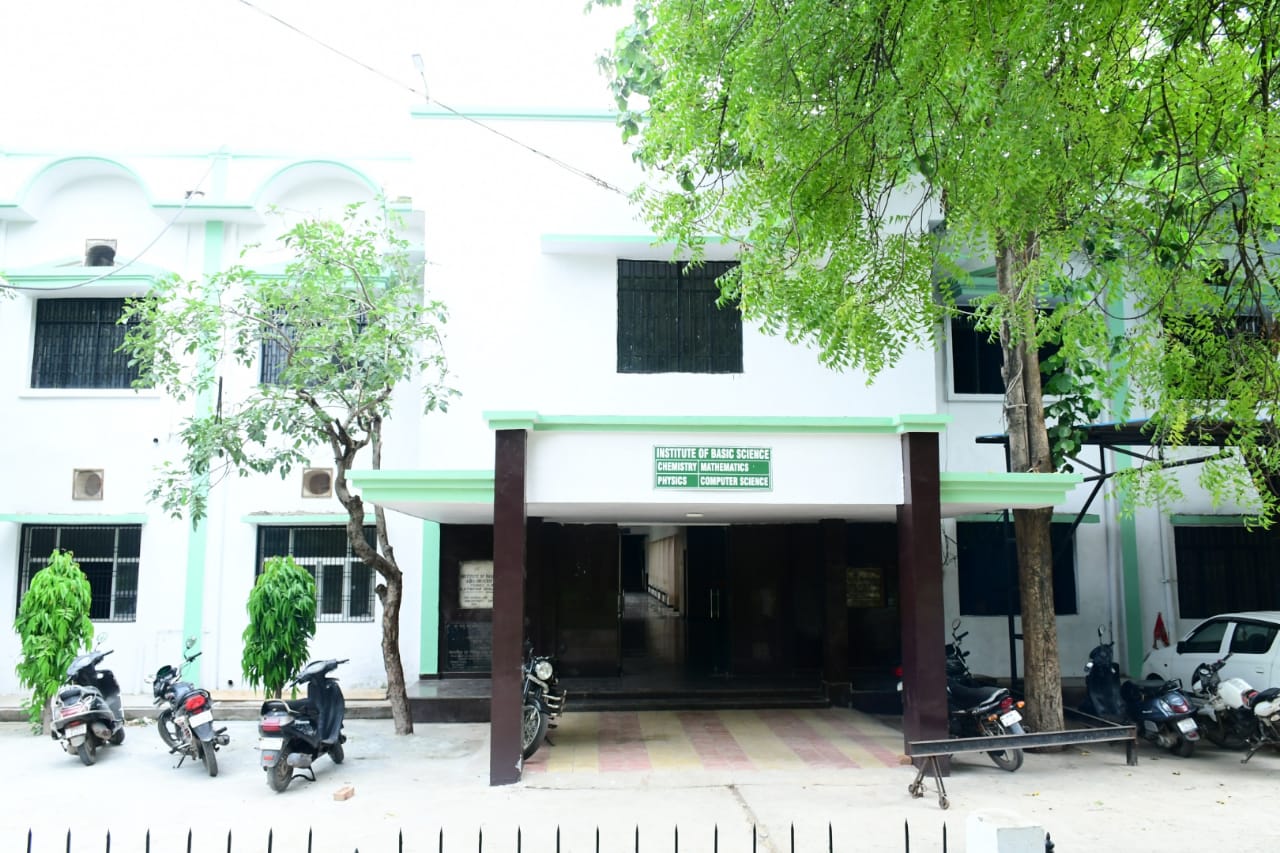 Institute of Basic Science (Khandari Campus)
Constituent Departments
1. Physics  Department
2. Chemistry  Department 
3. Mathematics Department 
Click on Department for Details
https://dbrau.ac.in/wp-admin/post.php?post=2539&action=elementor
Department Information
HOD

Prof. Bindu Shekhar Sharma

 

Address

Institute of Basic Sciences, Khandari, Agra

 

Phone

9837072890

 

Email

 
About Department
The Department of Physics was established in the year 1981 by introducing the course M.Phil. (Physics), a pre-Ph.D. two semesters course for providing training in research methodology for postgraduate student in Physics. About ten to twenty percent of the candidates who have successfully completed their M.Phil. Courses are registered for Ph.D. degree in Physics in the Department. About fifty candidates have so far obtained their Ph.D. degree in Physics from the Department in different thrust areas. More than two hundred research papers have been published by the teachers and research scholars of the Department in reputed international journals during last twenty years. The Department is also running a four semester course at M.Sc. level which was introduced in 1989-90. The purpose of this course has been to provide training to students in job-oriented areas of Physics, Electronics and Computers. After successful completion of M.Sc. course, the candidates have a wide scope for job opportunities in various government and private sector organizations. The syllabus for M.Sc. course has been designed so as to be consistent with that prescribed for UGC-CSIR National Eligibility Test(NET).
Faculties
S .No

01.

02.

03

 

Name

Dr. Ashutosh Dwivedi

 

Designation

Professor

Professor

Assistant Professor (Contract)

 

Qualifications

M.Sc.(Physics), M.Phil., Ph.D.

M.Sc. (Physics), M.Phil., Ph.D.

M.Sc. (Physics), Ph.D
Courses & Fees
Courses Name

 
 
 

Duration

 

Minimum – Eligibility

 

Admission Procedure

No of Seats

Fees

Ph.D.

 
 
 

Approximately Three years

 
As per University guidelines
 

As per guidelines of University

8+8

 

M.Sc.

B.Sc.

 
 
 

Four Semester

Six Semester

 

(a) B.Sc. Physics with at least 50% marks

Intermediate with Science

 

Merit/Academic record/ Written test/Admission test guidelines

As per guidelines of University

60

30

 
Research Area
(I) Condensed Matter Physics (II) Solid State Physics (III) Geophysics (IV) Microwave Physics (V) Optical Fibers (VI) Ultrasonics (VII) Dielectric Theory (VIII) Nanotechnology
Achievements Regarding department
Most of the students awarded M.Phil.(Physics) and Ph.D.(Physics) degree from the Department have got employments as lecturers in various Colleges/Universities in different States of the Country. Some of them are also working as Scientists in National Laboratories/Atomic Energy Centres and in other prestigious Institutes. Several teachers holding permanent positions in affiliated Colleges of this University and of other Universities have also obtained M.Phil. degree in Physics form this Department.
HOD

Address

Department of Chemistry, IBS, Khandari, Dr. B.R.Ambedkar University, Agra 

Phone

9997747260

Email

devendrakumar131@gmail.com
About Department
Department of Chemistry, Dr. BhimraoAmbedkar University, Agra was established in the year 1981 for M.Phil. and Ph.D. programmes and has presently three faculty members. Till 1995 only M.Phil. and Ph.D. programmes were running in the Department. Later in the year 1996 M.Sc. Analytical and M.Sc. Industrial chemistry were opened, thereafter, in 1998 M.Sc. Forensic Science and in 2003 M.Sc. Chemistry were started. Department follows semester system, which includes regular Seminars, Assignments, Periodical tests, Practical's and research work as part of curriculum. In 2022 Department has started B.Sc. (Science) course. The curriculum in all the course have been designed as per the NEP guidelines. This department is well known for excellent research and academics and from the very beginning has strived hard for quality teaching and research and have played significant role in the field of spreading the scientific knowledge among the students who are placed in good position in the field of academics, Industry, R&D and in National & International Institute etc. Faculty of this Department up to now have published more than 500 papers in National and International Journals of repute and from this Department more than 100 doctorates and 300 M.Phil. have been awarded. The highest h- index of the faculty is 34 with more than 4500 citations. Faculty members of the Department are life members of different organizations like Indian Science Congress Association, Kolkata, Indian Chemical Society, Kolkata, Institute of Chemists, Kolkata, Indian Council Of Chemists, Agra, ActaCineciaIndica, Meerut. Indian Association for Environment management NEERI, Indian Association for Air pollution control, New Delhi, Indian Aerosol Science & Technology Association BARC, National Academy of Sciences, Allahabad, Indian Association of Chemistry teachers. About 60 students have qualified UGC-CSIR(NET) Examination for JRF and Lectureship eligibility in last decade. The thrust areas of research are in the field of Green chemistry, coordination chemistry, environmental chemistry, macrocyclic chemistry, polymer chemistry and Nano chemistry. Department is well equipped with instrument like AAS, FT-IR(ATR &KBr) UV-Visible spectrometer, flame photometer, visible spectrophotometer, Gas Chromatograph, Microwave Synthesizer, Gel electrophoresis, Aerosol Black Carbon detector, GRIMM Aerosol spectrometer, high and low volume air samples etc. It has been recognized as FIST(DST) supported from 2012-2017. The Department Faculty has carried out many projects sponsored by UGC, CSIR, DST (New Delhi), State Government, DRDO etc. They along with their students have participated in many National & International conferences and have presented their work.
Courses & Fees
| | | | | | | |
| --- | --- | --- | --- | --- | --- | --- |
| Courses Name | Syllabus | Duration | Minimum – Eligibility | Admission Procedure | No of Seats | Fees |
| Ph.D. Chemistry | As per UGC Ordinances | 3 to 6 years | M.Sc. Chemistry with atleast 55 % | University Entrance Test  | 24 |   |
|  M.Sc. Chemistry | As per UGC Ordinances | 2 Years (Four Semesters) | B.Sc. degree with Chemistry as one of the main subject securing at least 55% marks in aggregate as well as 55% marks in Chemistry theory papers | University Entrance Test  | 15 |   |
|  B.Sc. Chemistry |  As per UGC Ordinances |  3 Years (Six Semester |   |   |  50 |   |
Training Program(Implemented in collaboration)
Program Name
Content / Remarks

(1)

(2)

Small scale industries awareness programme by Ministry of Small Scale Industry, GOI

Training programme for School Science teachers by Ministry of Science and Technology
Research Area 
| | |
| --- | --- |
| Area Name | Minimum – Eligibility |
| Coordination Chemistry Environmental Chemistry Synthetic inorganic Chemistry Nano Chemistry Polymer Science Green Chemistry | As per UGC/University norms |
Achievements Regarding department
(1) Organized national seminars/ workshop/conference
(2) Many invited lectures by faculty members of national and international institutes
(3) Participation and presentations in national and international conferences
(4) Many papers published in journals of repute
(5) Reference Book published
(6) Modernization of  labs by UGC plan grant / RUSA grant
(7) Placement of students to MNC and other Companies
(8) Implementation of good practices
.
Department / Institute Contact Information
Head

Address

Dept. of Mathematics,  Institute of Basic Science, Khandari, Agra

Phone

0562 – 2522420 9412161633

Email

SCMIBS@HOTMAIL.com
About Department
Established in 1981. M. Phil. & M.Sc. courses run in the department is of high repute as the pass outs of these courses have found placements in Universities like HRI, Allahabad, Delhi, Banasthali, IIT and other research centers. Self sufficient and updated library with more than 2000 volumes & 10 journals financed by NBHM and a well maintained Computer Lab with INFLIBNET facility. Furnished Seminar Hall and smart class rooms which caters the needs of all the departments.
Faculties
S .No

01. 02.

Name

Designation

Professor Professor

Qualifications

M.Phil., Ph. D. M.Phil., Ph. D.
Courses & Fees
Courses Name

M. Sc. (Mathematics)

Syllabus

Updated in 2017(CBCS)

Duration

4 semesters

Minimum – Eligibility

Bachelor degree with Mathematics in all the three years and either an average of 55% marks in B. Sc. and intermediate examination or 50% marks in B. Sc. and second division in intermediate

Admission Procedure

Merit basis

No of Seats 15

Fees

M. Phil. (Mathematics)

Updated in 2017(CBCS)

2 semesters + Dissertation

M. Sc. in any branch of Mathematical Sciences with at least 55%; either 55% marks in Graduation and IInd class in aggregate intermediate or 50% marks in each of the two examinations separately.

Written test

15

Ph.D. (Mathematics)

As per U.G.C. norms
Research Area
Reliability Theory, Software Reliability, Bio-mathematics, Fluid Dynamics, Fuzzy Mathematics
Achievements Regarding department
(i). Since its inception, the department has produced more than 80 Ph.D.'s. During this period faculty members have published around 300 research article and have completed 2 minor and 5 major projects of UGC and CSIR. The department has organized 2 teacher's training program, a conference on Mathematics for Industrial Development( 1994) , National Convention of ORSI(1998), two UGC sponsored Refresher Courses (1999) and two workshop for Hindi terminology. In 2004 the department organized 19th Annual conference of the Ramanujan Mathematical Society, the focal theme being Financial Mathematics. In 2007 department organized 9th Annual Conference of International Academy of Physical Sciences. In 2009, while in 2013 Annual Conference of VPI (MCM-2013) was organized. Recently a workshop on "Applications of Mathematics in Modern Era" have organized by the department. A workshop on "Applications of MATLAB" also organized in the Dept.

(ii). Four Memorial Lectures organized every year in the memory of Prof. J. N. Kapoor, Prof. H.C. Khare, Prof. R.P. Agarwal and Prof. Prof. M.K. Singhal (iii). Mathematics Day celebrated every year on 22nd Dec. (Ramanujan's Birthday). (iv). Other visitors in the recent past include Prof. Daniel Wulbert (University of California, USA), Prof. J. Striete (Madera University, GERMANY), Prof. Phan Quac Khanh (International University of Hochiminh City, VIETNAM) and Prof. G. Mastroeni (University of Pisa, ITALY). Prof. Ana Maria Acu (Romania), Prof. Loo Tee How (Malaysia), Michel Boyom (France) etc. (V). Faculty members visited several reputed Universities in India and abroad (USA, Canada, Europe, China, Russia etc)